Costa Rica is a beautiful country, with long stretches of deserted and undeveloped beaches…dense jungles teeming with exotic wildlife…towering volcanoes, lush green valleys, and hundreds of crystal-clear lakes and rivers…
Not only that, but the country offers a great climate year-round, neighborly atmosphere, no-hassle residence programs, excellent healthcare, a stable democracy, and safety and security. It doesn't hurt that many retired couples report living well on $2,000 a month—that includes all their costs.
For these reasons, as well as the welcoming locals who are warm and friendly to new foreign neighbors, Costa Rica has been an expat haven for more than 30 years.
That's another bonus: you don't have to be a pioneer in Costa Rica. There are well-established expat communities throughout the country. Things are "set up" so to speak, when it comes to shipping your household goods, using the healthcare system, buying property, and more. And by following this well-trodden path, your transition to your new life is much easier.
It's small, about the size of West Virginia. But the variety of landscapes, climates, and lifestyles in Costa Rica is amazing. You have the rainforests, wild beaches, and charming seaside villages of the southern Pacific coast, also known as the Southern Zone.
A Landscape and Lifestyle for Every Taste
There are the bustling market towns surrounded by sugar cane fields and coffee plantations of the Central Valley. Around the pristine 33-square-mile Lake Arenal, expats have taken up residence on the verdant hills rising from the shore, with vast lake views from their homes. On the Caribbean coast, life is laidback and moves to the rhythm of reggae. And that's just a small taste of all Costa Rica has to offer as far as places to live.
With all these different climates and landscapes, it's no wonder that this Central American jewel is also one of the most biodiverse spots on the planet. With just 0.03% of the earth's surface within its borders, the country has an estimated 5% of the world's species. In Costa Rica, this natural world surrounds you, putting the country on the forefront of eco-tourism and eco-living. Sloths, capuchin monkeys, toucans, and scarlet macaws will be your new neighbors.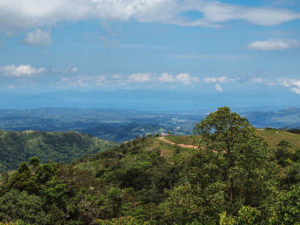 And no matter which location you choose, you can benefit from bargain real estate, whether you buy or rent. Three-bedroom homes in the Central Valley start at $119,000 to buy and $500 a month to rent. And two-bedroom condo, a short walk to the beach on the central Pacific coast, in a lively  town will cost about $700 a month, and a similar property is selling for $165,000. Deals like this can be found throughout the country.
Another big bonus is the high-quality, low-cost healthcare. There are two systems: private, for which you can pay cash or use insurance, and the government-run public system which you join when you become a legal resident. Overall, expats in Costa Rica pay a fraction of what they did back home for healthcare.
All these advantages make Costa Rica a premier destination for those looking for a secure, fun, and active retirement surrounded by new friends in a beautiful setting.
This article is by Jason Holland of International Living.